Fantasy Favorites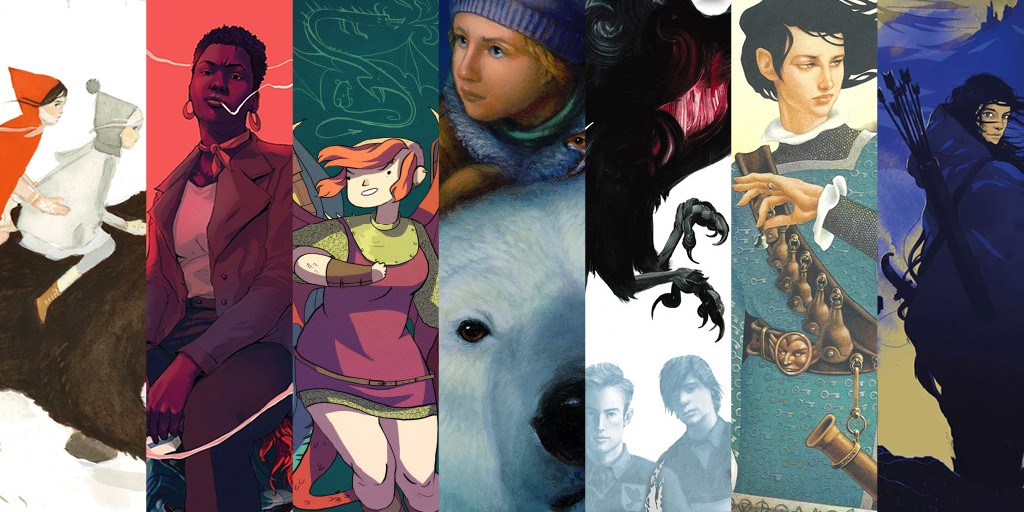 Ancient prophecies, brave heroes, otherworldly locales, and just a splash of magic! It is no doubt that fantasy is one of the most beloved literary genres of all time (it certainly holds a special place in my heart). So pick up one of these books and prepare for an adventure!
Hello! I am Colin Goodpasture, the library headquarters' administrative intern. I am an avid reader of just about anything I can get my hands on, but fantasy stories in particular have always captivated me. Ever since I could read, I have been enthralled by tales of gallant knights and fantastical worlds. From the legends of King Arthur to the grand quest of the Fellowship of the Ring, these stories have been an ever present companion to my reading adventures. Save for science fiction (a close second favorite), no other genre allows an author to freely explore and push the limits of their own vast imagination. Anything is possible within the realms of fantasy, and I believe this is why I love the genre so much. And so it is my great pleasure to recommend some exciting stories to accompany you on your own adventures. Happy questing!
For Kids
Amulet: The Stonekeeper by Kazu Kibuishi – Life will never be the same for siblings Emily and Navin after their mother is kidnapped by an evil monster. Follow the siblings as they venture into a magical world full of demons and robotic rabbits to save their mother in Kazu Kibuishi's stunning graphic novel.
100 Cupboards by Nathan D. Wilson – After hearing strange bumps in the night, Henry York discovers ninety nine strange doors hidden behind the thin plaster of his bedroom wall, each containing a portal to another world. What adventures await behind the cupboards?
The Tale of Despereaux by Kate DiCamillo – The tale of a brave mouse who sets out to woo a princess, a disgruntled rat longs for sunlight, and a simple serving girl who dreams of much more than her mundane life. Fate shall bring these three misfits for a wonderfully charming adventure meant for all ages.
Tuck Everlasting by Natalie Babbit – Eternal life, but at what cost? This is the central question posed by Natalie Babbit's thought provoking piece of fantasy. Follow Winnie Foster as she discovers the undying Tuck family's magical secrets and is offered her own chance at immortality. But is it worth it?
Snow & Rose by Emily Winfield Martin – Life seemed like a fairytale for siblings Snow and Rose, until their father disappeared into the mysterious and deadly woods. With their mother plunged into grief and their options running thin, the girls set out to rescue their father. Magic, monsters, and much more lie in wait within the shadowy forest.
For Teens
Nimona by Noelle Stevenson – Nimona is a young shapeshifter with big dreams … of becoming an evil villain. Follow Nimona on her adventures with the dastardly Lord Ballister Blackheart as they unleash havoc in this wonderfully quirky graphic novel.
We Hunt the Flame by Hafsah Faizal – Darkness has fallen upon the land and only one powerful artifact can fend it off. It is Zafira's duty to go on a great quest and bring light back to her home, but all the while she is being hunted by the assassin Nasir. Find out who is the hunter and who is the prey in this thrilling fantasy novel.
The Golden Compass by Phillip Pullman – The North is cold, dark, and filled with unknowable horrors, and yet it is Lyra's destination. Accompanied by her polar bear companion, Lyra pushes forward into the vast beyond to uncover a secret plot with world-shattering consequences.
Sabriel by Garth Nix – Sabriel has spent her life in a boarding school far from the undead monsters that dwell in the Old Kingdom. When her father goes missing though, it is up to Sabriel to venture into the depths of the Old Kingdom to come to his rescue. Thrilling fights, decrepit ruins, and ancient magic await for Sabriel. Can she rise to the challenge?
The Raven Boys by Maggie Stiefvater – Blue Sargent comes from a family of clairvoyants, but she does not possess this power herself. That is until she sees a procession of spirits parade through a cemetery. Follow Blue as she teams up with the Raven Boys, a group of young men with psychic powers, as they attempt to find the magical resting place of an ancient wish granting king.
For Adults
Abbott by Saladin Ahmed – Reporter Elena Abbott is searching for justice on the corrupt streets of 1970s Detroit, but ends up stumbling upon something much more sinister. Follow Elena as she fights against a secretive supernatural society in this wonderfully illustrated graphic novel. Also available on Hoopla.
The Color of Magic by Terry Pratchett – A wealthy tourist and a wizard go on a wonderfully whimsical adventure in this classic fantasy novel. Follow Twoflower and Rincewind as they encounter theoretical dragons, less than competent pirates, and many more of the odd denizens of the Discworld in the epic beginning of Terry Pratchett's fantastic series. Also available on OverDrive.
Reincarnation Blues by Michael Poore – Imagine living forever, without love. Milo has reincarnated thousands of times, lived countless lives, but none of it matters if he cannot be with his true love, Death (though her real name is Suzie). Follow Milo as he lives through the centuries in this moving meditation on life and love.
Jonathan Strange & Mr. Norrell by Susanna Clarke – Though the magic that once flourished in England has long since departed, Johnathan Strange refuses to forget the old ways. Johnathan believes he is the only magician left in the world, until he meets the eccentric Mr. Norrell. Read all about the mystical exploits of the world's last magicians in this wonderful piece of historical fiction.
Stay Informed
When you subscribe to the blog, we will send you an e-mail when there are new updates on the site so you wouldn't miss them.
Comments
No comments made yet. Be the first to submit a comment