Folk Tales from Around the World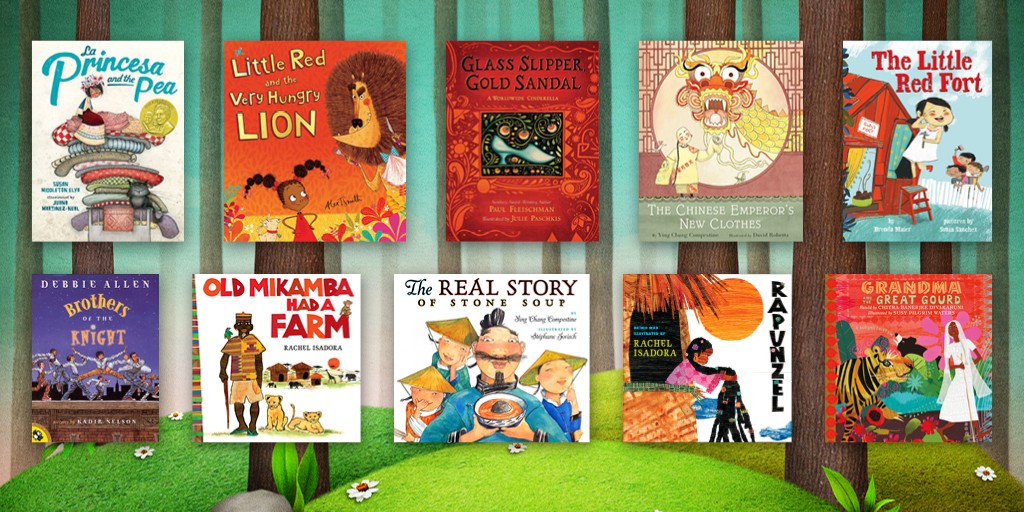 So many of the fairy tales that we read are based on folk tales from around the world. Folk tales are a great way to connect with others across time and different cultures. They are fun stories that highlight many beautiful aspects of being human in ways that everyone can find relatable. Providing children with books that highlight a diverse group of characters is important as it promotes empathy and inclusion.
"Imagine a world in which all children can see themselves in the pages of a book." – We Need Diverse Books
We Need Diverse Books™ is an organization who aims to help produce and promote literature that reflects and honors the lives of all young people. Their website provides information about initiatives to include more diverse books in book lists for children. Here are a few titles that portray a diverse range characters and stories from around the world.
La Princesa and the Pea by Susan Middleton Elya – This is a delightful rhyming twist on a classic fairy tale in which a queen places a pea under a young lady's mattress to see if she is truly a princess. Written in both Spanish and English, it is a great bilingual read.
Little Red and the Very Hungry Lion by Alex T. Smith – This version of Little Red Riding Hood is set on the African plains. Little Red realizes what the Very Hungry Lion is up to and teaches him a lesson before generously sharing her donuts with him.
Glass Slipper, Gold Sandal: A Worldwide Cinderella by Paul Fleischman – Fleischman draws from a variety of folk traditions to put together this version of Cinderella, including elements from Mexico, Iran, Korea, Russia, Appalachia, and more.
The Chinese Emperor's New Clothes by Ying Chang Compestine – After his advisors take advantage of him, a young emperor enlists the help of honest tailors to reveal their misdeeds in this retelling of the classic fairy tale. Also available in Hoopla.
The Little Red Fort by Brenda Maier – In this adaptation of the Little Red Hen fable, Ruby wants to build a fort, but her three brothers refuse to help. When the fort is finished, Ruby will not let them join her… until the boys come up with a few embellishments for the fort, like a mailbox, a garden, and a fresh coat of paint.
Brothers of the Knight by Debbie Allen – In this contemporary retelling of the fairy tale "Twelve Dancing Princesses," an African-American reverend in Harlem endeavors to discover why the shoes of his twelve sons are worn to pieces every morning.
Old Mikamba Had a Farm by Rachel Isadora – The inhabitants of Old Makimba's farm in Africa, including a baboon, an elephant, and a lion, are described, verse-by-verse. Many fun facts about African animals enrich the tale.
The Real Story of Stone Soup by Ying Chang Compestine – When a crew of Chinese fishermen forget to bring cooking utensils with them, they find creative ways to make do with what they have and what they can find.
Rapunzel by Rachel Isadora – Recast in an African setting, this familiar fairy tale tells the adventures of a beautiful girl with extraordinarily long hair who is imprisoned in a lonely tower by a witch.
Grandma and the Great Gourd: A Bengali Folktale by Chitra Banerjee Divakaruni – On her way to visit her daughter on the other side of the jungle, Grandma encounters a hungry fox, bear, and tiger, and although she convinces them to wait for her return trip, she still must find a way to outwit them all. Chitra Banerjee Divakaruni was our All Henrico Reads author in 2016.
For more recommendations, ask a librarian online, over the phone, through My Next Read, or on your next visit.
Stay Informed
When you subscribe to the blog, we will send you an e-mail when there are new updates on the site so you wouldn't miss them.
Comments
No comments made yet. Be the first to submit a comment