Audiobooks for Tweens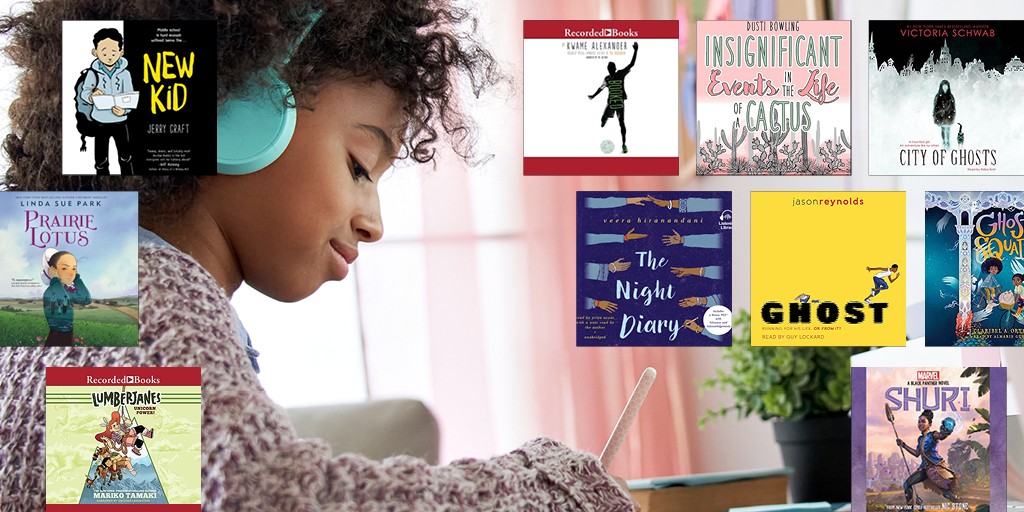 One of our favorite ways to experience books is to listen to them. Audiobooks allow a full, immersive experience with different voices for characters, multiple narrators, sound effects, the works! You can customize listening speed, listen on the go, and find narrators you enjoy, who inspire you to keep listening. Some wonderful audiobooks happen to be for the tween crowd. These audiobooks are targeted at ages 8-12 and include adventure, fantasy, ghost stories and more. Read on for our picks – all of which are available through our digital collections for easy streaming.
Booked by Kwame Alexander, narrated by the author – Nick loves soccer and lives to play. His dad has written a dictionary that he makes Nick read, and the whole family enjoys wordplay. When Nick's parents decide to separate, things in his life seem to go downhill. As Nick works to overcome his obstacles, he also learns a lot about himself. Alexander intermittently uses giant words from the dictionary and reads with rhythm and excitement. Also available on Hoopla.
Insignificant Events in the Life of a Cactus by Dusti Bowling, narrated by Karissa Vacker – Aven and her parents have moved to Stagecoach Pass, a theme park in Arizona. She is nervous about starting a new school and the prospect of making new friends. Aven makes some new friends, Connor and Zion, who are just as excited to explore the mysterious theme park as she is. Vacker's conversational narration helps the characters come to life. Also available on Hoopla.
New Kid by Jerry Craft, performed by a full cast including Nile Bullock, Jerry Craft, Guy Lockard and Robin Miles – New Kid gives the reader a whole new way to experience this standout graphic novel about friendship, identity, and growing up. Jordan is starting a new school and the experience isn't quite what he thought it would be. This performance features ample sound effects, background noises and musical interludes for each chapter alongside stellar cast narration.
The Night Diary by Veera Hiranandani, narrated by Priya Ayyar – It's 1947 and Nisha's world has turned upside down. The Indian Independence Act has separated the county into Pakistan and India, leaving her feeling conflicted. With tensions between religious groups rising, her family has to flee a newly created Pakistan. The journey isn't easy and they encounter many struggles along the way. Priya Ayyar's honest and raw narration brings Nisha's voice to life.
Ghost Squad by Claribel A. Ortega, narrated by Almarie Guerra – Lucely sees her deceased family members as ghosts, but her father can only see them as fireflies. With her best friend Syd, she embarks on a mission, hoping to make the dead real after hearing about a spell… only things don't go quite as they planned. They enlist the help of Babette, Syd's grandmother and occult expert, to continue their frightening adventure. Almarie Guerra's flawless narration animates every character and builds the paranormal suspense as Lucely and Syd work to keep evil out of St. Augustine.
Prairie Lotus by Linda Sue Park, narrated by Emily Woo Zeller – Hanna and her father are new to the Dakota Territory in 1880 and encounter racism and discrimination. Hanna is a talented seamstress and dreams of attending school and helping her father in his tailor shop. With themes of identity, friendship, and family, Emily Woo Zeller reads with an approachable style, perfectly capturing Hanna's voice.
Ghost by Jason Reynolds, narrated by Guy Lockard – Castle Crenshaw, self-nicknamed Ghost, is the track team's newest recruit. Working to overcome his problems at school, Ghost throws himself into track. Guy Lockard's exuberant narration makes this an excellent read. Also available on CD.
City of Ghosts by Victoria Schwab, narrated by Reba Buhr – Cassidy's parents are authors who focus on the paranormal. Her closest friend Jacob happens to be a ghost, and she hasn't told her parents about him. When her parents take on a new job in Edinburgh, Cassidy meets Lara, who can also see ghosts. Things quickly become ominous, leading to some haunting adventures. Buhr reads with plenty of suspense in this ghost story. Also available on Hoopla.
Shuri: A Black Panther Novel by Nic Stone, narrated by Anika Noni Rose – Shuri, sister to T'Challa, the Black Panther, harnesses the power of kinetic energy and vibranium for her inventions. When an herb vital to Wakandan life is threatened, she must do what it takes to save it and the nation. Anika Noni Rose narrates Shuri's story to perfection, using a conversational tone and nailing her rendition of Shuri's personality. Also available on Hoopla.
Unicorn Power! By Mariko Tamaki, narrated by Amanda Leigh Cobb – Lumberjane scouts take a solemn oath to always do their best. The members of the Roanoke Cabin are no exception, as April, Jo, Mal, Molly, and Ripley stick together. Their mission this time involves unicorns. Based on the popular graphic novel series, this is narrated to the MAX! (as the Lumberjanes would say). Cobb reads excitedly, making this a quick and enjoyable listen about friends and adventure.
All of these authors and narrators have more works if you're interested. For more personalized book recommendations, we offer My Next Read, a virtual reader's advisory for all ages.
Stay Informed
When you subscribe to the blog, we will send you an e-mail when there are new updates on the site so you wouldn't miss them.
Comments
No comments made yet. Be the first to submit a comment