Teen Retellings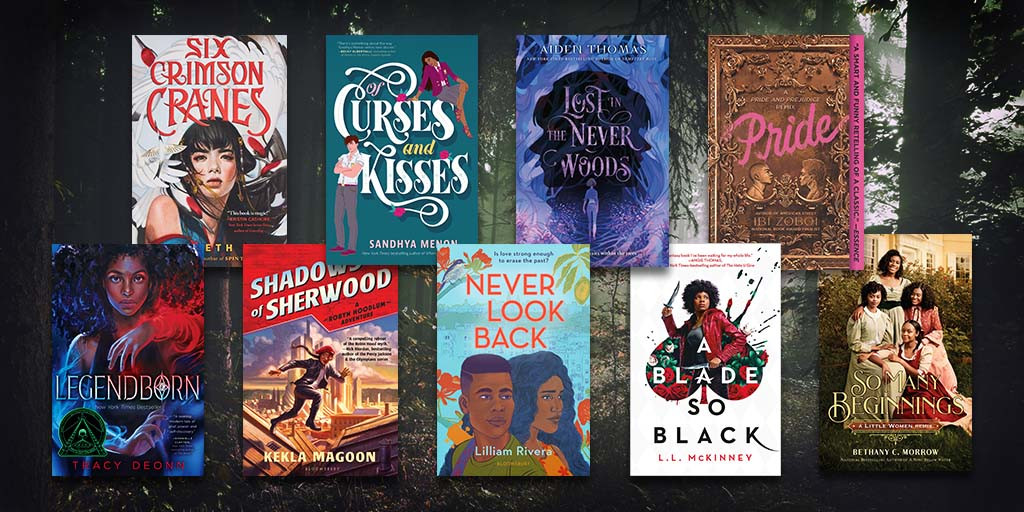 Whether you know it as a remix, retelling, or reimagining, stories that incorporate elements from classic tales or well-known legends provide ways for us to explore the "what if." Retellings, reimaginings, and remixes all provide us with a somewhat familiar set-up, but have a modern twist, be it setting or otherwise. From retellings of Greek mythology to remixes of Jane Austen, the books below provide an example of the wide range of retellings we have in our teen collection. Happy reading!
Legendborn by Tracey Deonn
Bree's mother tragically died in a car crash just before Bree left to attend the Early College program at the University of North Carolina Chapel Hill. Bree immediately notices some strange happenings on campus, including mysterious night-time ceremonies. The heart-pounding adventure and thrills only continue from there in this retelling of King Arthur. Also available on Overdrive.
Six Crimson Cranes by Elizabeth Lim
Shiori is the emperor's only daughter and she possesses magic that most believe has not existed in Kiata in quite some time. Shiori has to keep her magical abilities a secret. When she observes changes in her stepmother's behavior, her stepmother resorts to desperate measures to keep Shiori and her six brothers from ever being in the Kingdom again. This retelling of The Six Swans involves a helpful dragon, a bit of romance, and plenty of adventure. Also available on Overdrive.
Shadows of Sherwood: A Robyn Hoodlum Adventure by Kekla Magoon
In this Robin Hood retelling, Governor Crown is hungry for power. When he starts making decisions that negatively impact others, Robyn feels compelled to take action. Some of Governor Crown's earliest actions hit a little too close to home, and Robyn will have to fight for her family and friends to unravel the clues her father left behind. Also available on Overdrive.
A Blade So Black by L.L. McKinney
In this Alice in Wonderland retelling, an encounter with a Nightmare sparks Alice's journey into dreamwalking and fighting off Nightmares under the tutelage of Hatta. As the number of Nightmares grow, Alice will have to make life-changing decisions, all while keeping her adventures under wraps and hidden from her mom. Also available on Overdrive.
Of Curses and Kisses by Sandhya Menon
Jaya has heard about the curse that involves her family, the Raos, and the Emersons. Now at a boarding school with one of the dreaded Emersons, Jaya will have to figure out what the curse really means--all while trying to protect her sister and avoid betrayal in the process. Of course Jaya has a plan, but romance may get in the way in this Beauty and the Beast retelling. Also available on Overdrive.
So Many Beginnings: A Little Women Remix by Bethany C. Morrow
Meg, Joanna, Bethlehem, and Amethyst March are sisters living in the Freedmen's Colony on Roanoke Island in 1863. As each sister grows, so does her connection with family. Just like in Little Women, the March sisters' personalities shine. Also available on Overdrive.
Never Look Back by Lilliam Rivera
After Hurricane Maria devastated Puerto Rico, Eury went to New York City to live with her cousin, Penelope. Enter the cute guy from down the street, Pheus, a budding singer with a promising career. Sparks fly in this dual narrative retelling of Orpheus and Eurydice set in the Bronx with tinges of magical realism. Also available on Overdrive and Hoopla.
Lost in the Never Woods by Aiden Thomas
Wendy Darling lives in Astoria, Oregon and is preparing to go to college in this reimagining of Peter Pan. Her brothers mysteriously disappeared a few years ago, and now other children are starting to disappear as well. When Peter Pan shows up, Wendy can only wonder--is Peter involved in the disappearances? Or is he the key to unlocking the truth about what happened to her brothers? Also available on Overdrive.
Pride: A Pride and Prejudice Remix by Ibi Zoboi
Zuri Benitez is a dreamer. She knows changes are coming to Bushwick and her life. She's always been close with her four sisters, and you can believe when the cute Darcy brothers move in next door, they all take notice. As she gets closer to her goal of attending Howard University, Zuri will have to overcome the new obstacles that stand in her way. Also available on Overdrive and Hoopla.
Stay Informed
When you subscribe to the blog, we will send you an e-mail when there are new updates on the site so you wouldn't miss them.
Comments
No comments made yet. Be the first to submit a comment