Celebrate Short Story Day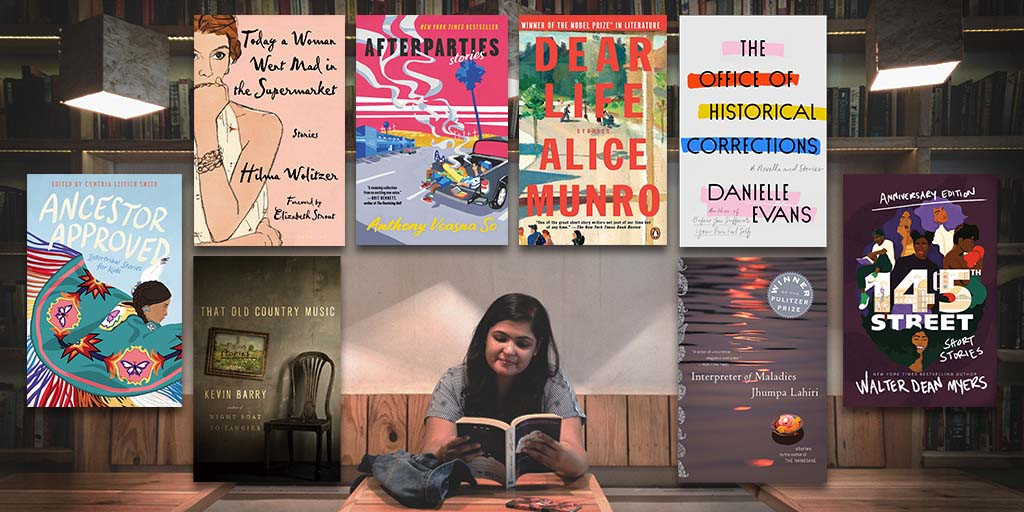 Short Story Day always takes place on the shortest day of the year (of course!). This year it falls on December 21st. Why celebrate short stories? According to Edgar Allen Poe, they leave the reader with "a sense of the fullest satisfaction."
Although short stories have existed in many configurations throughout history, such as myths, fables, or folk tales, it is only as recently as the 19th century that they were generally acknowledged as a literary form. It was Poe who also defined the short story as one that "can be read in one sitting." They can range from 7500 words to 1000 words (or even less!) and can take on many different forms, such as the event-plot story or the formless story popularized by Anton Chekov. No matter what your taste in literature, you can find short story collections across all genres. Celebrate today by reading some short stories, or challenge yourself by trying to write your own. There's always time to read a short story!
Below are just a few of the many short stories collections available at the library:
For Kids
Ancestor Approved: Intertribal Stories for Kids edited by Cynthia Leitich Smith
This joyful series of tales offered by the new HarperCollins imprint, Heartdrum, and authored by both new and established Native American voices, is set in Ann Arbor, Michigan at the Dance of Mother Earth PowWow. Told by a diverse cast of children's characters from different tribes, their stories are inter-woven, each illuminating a different perspective of what it means to be Native American. Even the dog tells his story! This lovely book celebrates each child's individuality as well as strong community ties and very importantly, ancestry and ethnic identity. Recommended for ages 8-12.
Also available on Libby in ebook and eAudiobook formats.
For Teens
145th Street by Walter Dean Myers
Written by famed children's author, Walter Dean Myers, and set in the heart of Harlem, these are the tales of the people who live, dream, and survive on 145th street. Meet Big Joe, who plans his own funeral so he can attend it while still alive, and Monkeyman, who runs afoul of a local gang. Experience joy, fear, pain, and hope; the very real emotions set in the very real landscape of urban inner city life. This 20th anniversary edition of the book includes new content such as a map and history of Harlem. A Young Adult title for ages 12 and up.
Also available on Libby in ebook and eAudiobook formats.
For Adults
Afterparties: Stories by Anthony Veasna So
Anthony Veasna So was on the cusp of literary stardom when he died at age 28. This posthumous collection is inspired by So's California Cambodian-American heritage as well as his gay identity. These loosely related stories, infused with his trademark sharp humor, share a youthful viewpoint in reconciling generational differences and the experiences of growing up in a multicultural world. Many incorporate characters based on his family members. Anthony So's talent was undeniable and one can only wonder what American Literature has lost with his passing.
Also available on Libby in ebook format.
Today a Woman Went Mad in the Supermarket by Hilma Wolitzer
How can one resist such an intriguing title? Hilma Wolitzer, now in her 90's and still going strong, has been writing for decades and has garnered a well-respected reputation in American literature. Many of these stories were originally published in the 60's and 70's and follow the life of Paulette, "Paulie," and husband, Howard, through the years. With wit and wisdom, Wolitzer touches upon the everyday life of ordinary people in stories that are just as relevant today as they were when written. Selected as a recommended reading title by several publications such as the New York Times and Time, make sure to discover (or rediscover) the wonderful down-to-earth writing of Hilma Wolitzer.
Also available on Libby in ebook format.
The Office of Historical Corrections by Danielle Evans
In the successor to her highly acclaimed collection of short stories, Before You Suffocate Your Own Fool Self, Danielle Evans continues to showcase her sharp, insightful style. Her gift for storytelling takes you into the lives of today's Black Women, intimately experiencing their grief and loss and addressing social issues such as racism and feminism. Although grief is a central theme, Evans' uses her elegant prose and selectively wry wit to reflect on the complexity of relationships. Danielle Evans was the 2021 winner of the Joyce Carol Oates Prize for literature and this collection will convince you it is well-deserved.
Also available on Libby in ebook format.
Interpreter of Maladies by Jhumpa Lahiri
This collection from Jhumpa Lahiri earned her not only the PEN/Hemingway Award for a debut Novel but also the Pulitzer Prize for fiction. In an interview with the Atlantic magazine, Lahiri explained that she works to make her writing plainer - as simple as possible. It is this functional style, a style where every word is necessary and there is no excess, that results in eloquent tales about characters who find themselves coming to terms with the clashes between traditional Indian culture and an alien American culture in both ordinary and extraordinary situations.
Also available on Hoopla and Libby in ebook format.
That Old Country Music: Stories by Kevin Barry
Kevin Barry, acclaimed author of Night Boat to Tangier, presents readers with a collection of short stories that take place in rural Ireland. Barry uses his literary gifts to transport readers to an Ireland that's both modern and timeless. Full of love, sadness and dark humor, Barry's eleven short stories affirm his position as one of Ireland's most talented writers.
No list of short story collections is complete without a title from Alice Munro, known as one of the greatest living short story writers. Munro is also an award winning author who received the 2013 Nobel in Literature and the Man Booker International Prize, among many others. Her stories are frequently set in small-town Ontario (her home) and often reflect the Chekov short story style: formless and presenting life as a series of unintended consequences. Dear Life is her most recent collection which continues her penchant for exploring everyday lives. Among the collection are four final stories which she intimates are about her own childhood. As with the other authors mentioned in this post, Munro excels at elevating the lives of ordinary people.
Also available on Libby in ebook format.
Additionally, you might try some the following classics, both old and new:
This is just a small selection of authors and titles available in short story format. For more suggestions, submit a request for a custom list of recommendations from expert librarians using My Next Read. Have a happy Short Story Day!
Stay Informed
When you subscribe to the blog, we will send you an e-mail when there are new updates on the site so you wouldn't miss them.
Comments
No comments made yet. Be the first to submit a comment