Active Aging Week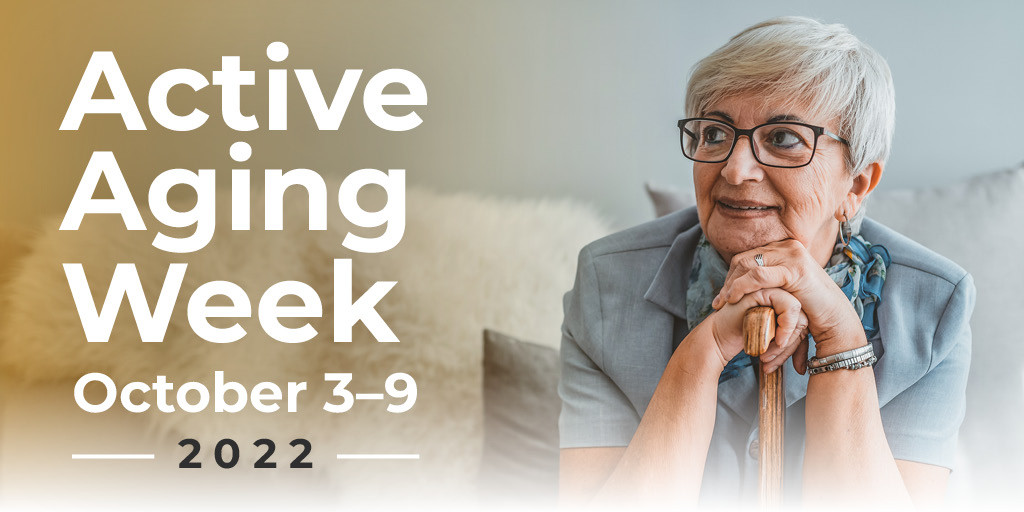 In 2003, the International Council on Active Aging initiated the first Active Aging Week. Typically held in early October, the week-long campaign encourages the concept of positive aging. In observation of Active Aging Week, the Library will be hosting a number of events this fall. Read on to learn more about upcoming programs as well as additional local and Library resources that promote the benefits of active living and aging.
Tue. Oct. 4, 2-3PM, Gayton Library
Learn general first aid information, as well as home safety and fall prevention tips, in our salute to Active Aging Week. After the program, check out materials from our collection dealing with health and safety for seniors. This program is led by a staff member from the Henrico County Division of Fire.
Wed. Oct. 5, 11AM – 12PM, Glen Allen Library
Celebrate Active Aging Week with Senior Connections: The Capital Area Agency on Aging, as we highlight key elements of good health, well-being, and longevity for older adults and caregivers of all ages.
Thu. Oct. 6, 1-3:30PM, Fairfield Library
You will find an assortment of projects to try or take home. Materials will be provided. Library materials will be available to spark further creativity.
Thu. Oct. 6, 6-7PM, Twin Hickory Library
The body's lymphatic system is in charge of processing fluids and removing cellular waste from the body, and it supports immune health and other important bodily functions. In this hands-on workshop, learn Manual Lymphatic Drainage Massage techniques designed to support the lymphatic system. Shelley and James of Nimbus Massage will teach the basics of the lymphatic system, techniques for self-Manual Lymphatic Drainage Massage, and provide information for people who have gone through cancer treatment that affected the lymph nodes.
Thu. Oct. 20, 2-3PM, Libbie Mill Library
Learn about research in the areas of diet and nutrition, exercise, cognitive activity and social engagement. Use hands-on tools to help you incorporate these recommendations into a plan for healthy aging. Presented by the Greater Richmond Chapter of the Alzheimer's Association.
Wed. Oct. 26, 2-3:30PM, Libbie Mill Library
Tue. Nov. 15, 2-3:30PM, Fairfield Library
Learn more about Medicare enrollment, costs, and coverage with staff and volunteers from the Virginia Insurance Counseling and Assistance Program (VICAP). Find out about programs available for eligible individuals to save on Medicare costs and where you can go to find the answers to your Medicare questions.
Thu. Nov. 3, 2-3PM, Fairfield Library
Learn how to recognize common signs of Alzheimer's and how to approach someone about memory concerns. Representatives from the Greater Richmond Chapter of the Alzheimer's Association will also discuss the importance of early detection, benefits of a diagnosis, tests and assessments for the diagnostic process, and Alzheimer's Association resources.
Thu. Nov. 17, 2-3PM, Libbie Mill Library
Learn all about Social Security with Jacqueline Weisgarber, Social Security Public Affairs Specialist, who will cover a range of topics including: when someone is eligible to receive retirement benefits, how early retirement affects benefits, how someone can get the most from their benefits, the future of Social Security, and when someone should file for Medicare.
ADDITIONAL RESOURCES
In addition to these, the Library offers a variety of programs to foster life-long learning. Download or pick up a Program Guide from your library or visit our online calendar to learn about upcoming book discussions, film screenings, crafts, computer classes, and more. Or subscribe to our monthly newsletter for updates on the latest Library news!
Beyond the Library, County residents can explore a number of facilities and programs through Henrico Recreation and Parks, which offers activities for all ages. Furthermore, initiatives like EngAGE Henrico help enhance social engagement, wellness, and independence amongst older adults in the community by providing residents with information about local services and programs.
FROM THE COLLECTION
Stay Informed
When you subscribe to the blog, we will send you an e-mail when there are new updates on the site so you wouldn't miss them.
Comments
No comments made yet. Be the first to submit a comment