Exciting Virtual Programs Coming Up in December!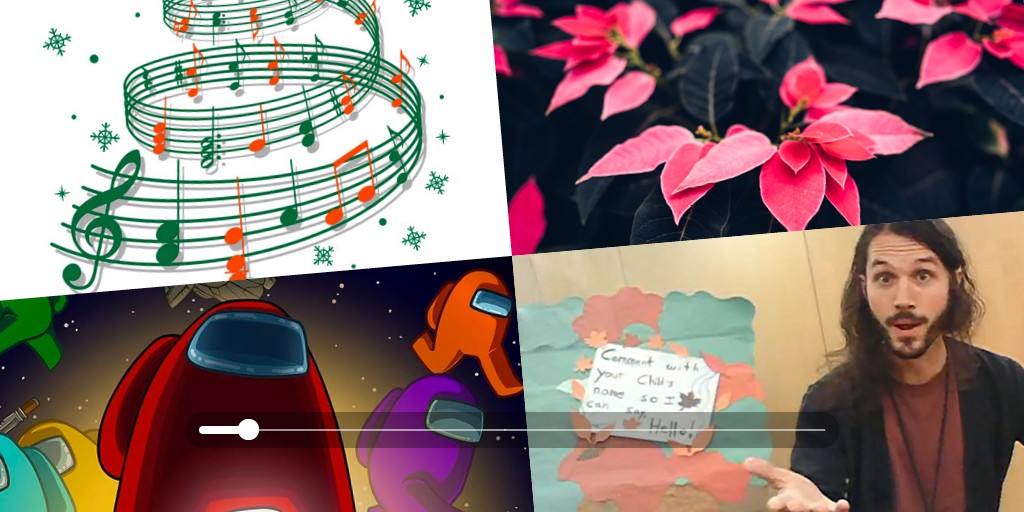 Brush up on your improv skills and move and groove with us! Our online programs this month include music, games, crafts, book discussions, and even investment tips! Join us from the comfort of your home.
These are a few of our upcoming programs. Visit our Events Page for the full list of upcoming events or download our printable guide.
For Kids
Bring on the Books!
Fridays, December 4, 11, and 18, 3:30 pm
Kids in Grades K-5 and their grownups are invited to join us the first three Fridays in December for some festive book-related activities and a preview of new titles!
Varina Family Band: Winter Sing-a-long
Saturday, December 5, 11:00 am
Celebrate winter weather and the various Festivals of Light by lifting your voices with Varina Children's Department staff for our seasonal sing-a-long.
LEGO Holiday Ornaments
Monday, December 14, 5:30 pm
Sharpen your building skills as we make LEGO holiday ornaments! Bring your basic LEGO pieces and we will walk you through how to make simple ornaments that will brighten up your tree or holiday display. Downloadable instructions will be provided.
Move and Groove Storytime
Friday, December 18, 10:30 am
Enjoy dance, music, and stretching activities in this playful and interactive storytime.
And join us for Virtual Storytime on Facebook Live every Monday, Wednesday, Thursday, and Saturday at 10:30 am and Tuesday at 6:30 pm. Read, sing, and dance along with your favorite children's librarians!
For Teens
Zine Workshop
Wednesday, December 9, 6:00 pm
Zines are do-it-yourself (DIY) magazines. They can be about anything from favorite movies or bands to favorite foods and everything in between! Across the nation people have been making "quaranzines" to talk about their life during the pandemic. In this workshop you will learn how to make a pocket zine using supplies found at home: a piece of printer paper (8.5 x11), markers or pens, and a pair of scissors. We will talk about other things you can add to your zine, as well.
Logic Games for Teens
Monday, December 21, 2:00 pm
Play, explore, and discuss games that focus on strategy and logical thinking. Kick off your Winter Break with a relaxing hour of game-centric fun!
Among Us: The Library Edition
Tuesday, December 22, 2:00 pm
Get together with your library friends to play the online multiplayer game Among Us. Your teamwork and logic skills will be put to the test as you help your crewmates repair their broken ship. Unless you're the imposter. In that case, your mission is sabotage! Participants will need to download the free Among Us app on their iOs or Android device in order to play.
For Adults
How To Avoid Common Investing Mistakes
Wednesday, December 2, 12:00 pm
Learn easy ways to take control over your finances during uncertain times and beyond. Learn common investing mistakes and what you can do to avoid them. This webinar is designed for both novice and experienced investors alike, and will be led by a local CPA and CFP® professional.
Holiday Flowering Plants
Tuesday, December 8, 3:00 pm
Learn about the most commonly received holiday plants and how to take care of them in your home so they can be enjoyed through the holidays and beyond. Presented by the Henrico Office of Virginia Cooperative Extension and the Henrico Master Gardeners in cooperation with Henrico County Public Library. Registration required. Register with the Henrico Office of Virginia Cooperative Extension here.
Improv Games for Adults
Tuesday, December 8, 6:30 pm
Play improv games that are used in professional theaters, and be coached by a bona fide improv comedian. We will work collaboratively to make each other laugh, listen, think, and act in various unscripted and unexpected ways, so come ready to have fun. No prior experience necessary.
Be sure to check out our Book Discussions page to see what we are reading and discussing in December and the new year!
Unless otherwise noted, programs will be held via Webex. Click through to the events page for meeting links and information on how to join.
Stay Informed
When you subscribe to the blog, we will send you an e-mail when there are new updates on the site so you wouldn't miss them.
Comments
No comments made yet. Be the first to submit a comment