Discovering Poetry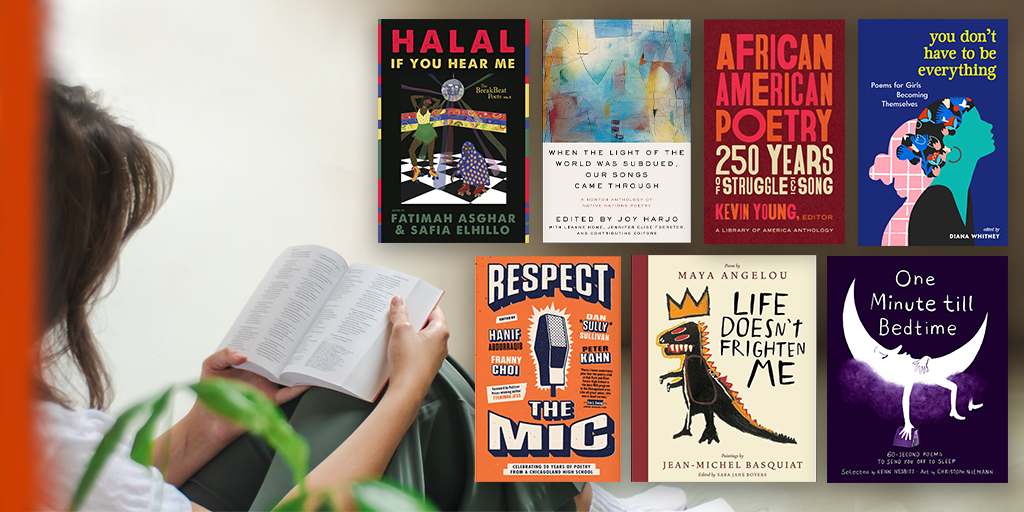 In this year's All Henrico Reads title, The Many Daughters of Afong Moy by Jamie Ford, main character Dorothy Moy is a poet laureate who channels her pain and trauma into her art. Poetry remains a running theme throughout the novel, as Dorothy pays homage to other poets and their verses.
Feeling inspired, I gave myself a mission to read more poetry and to figure out why I liked it. Along the way I have discovered many amazing poets, poetry collections, and writers. The library is a great place to find new poets! April is National Poetry Month, and this month, we challenge you to do the same. Here's how I did it.
The first thing I did was ask my coworkers. Librarians love to share what we're reading and to recommend books. You can come in and ask us at the reference desk, or use My Next Read to request a book list made just for you. Some of the suggestions I received were Terrance Hayes, Victoria Chang, and Fatimah Ashgar – all of which were fantastic. You can also see if one of your favorite novelists has written poetry. This is how I discovered the poetry of Ocean Vuong and Elizabeth Acevedo.
I also went exploring the stacks on my own. Poetry is shelved together in nonfiction under the call number 811. There you will find collections such as When the Light of the World Was Subdued, Our Songs Came Through: A Norton Anthology of Native Nations Poetry ed. by Joy Harjo, Halal If You Hear Me ed. by Fatimah Ashgar and Safia Elhillo, and African American Poetry: 250 Years of Struggle & Song ed. by Kevin Young. Collections can introduce you to lots of different poets, and once you find someone whose work resonates with you, you can check out more.
The poetry section also contains lots of books by individual poets. Most are slim paperbacks and it's easy to get carried away pulling them off the shelf! I would grab a handful randomly, read a poem out of the middle of the book, and if I liked it, I would check it out. This is where I really discovered some favorites. Here are just a few poets whose work "jumped" off the shelf:
Maybe these poets will resonate with you as well? Since poetry is so personal, I'd encourage you to explore the shelves yourself and find the poetry that speaks to you. If you can't make it into the library, we have lots of poetry available on hoopla and in our OverDrive collection available through the Libby App.
We also have lots of poetry books for young readers. The call number, 811, is the same in the children's and teen areas. Respect the Mic: Celebrating 20 Years of Poetry from a Chicagoland High School ed. By Hanif Abdurraqib and You Don't Have to be Everything: Poems for Girls Becoming Themselves ed. by Diana Whitney are great collections for teens.
For little ones (and to be honest, the whole family!) we recommend National Geographic Book of Nature Poetry: With Favorites from Langston Hughes, Naomi Shihab Nye, Billy Collins, and More ed. by J. Patrick Lewis, Life Doesn't Frighten Me by Maya Angelou, and One Minute till Bedtime: 60-Second Poems to Send You Off to Sleep ed. by Kenn Nesbitt.
PROGRAMS
In addition to discovering poetry in our collection, you can also listen to poetry on Storyline! Throughout April, dial 804-501-1946 to tune in to poetry for adults, teens, and little listeners. Plus, try writing and performing some poetry of your own! This month we invite you and your family to attend a poetry program at the library:
Spoken Word Open Mic Night with Roscoe Burnems

Wednesday, April 5, 6-8PM at Tuckahoe Library
Audience: Teens & Tweens
Come on down and perform in an open mic night hosted by Richmond Poet Laureate Roscoe Burnems. We will start the night off with a discussion and Q/A about spoken word. Do you have a piece you have wanted to try in front of an audience? Now is your chance to perform and learn from one of the best spoken word poets in the country!
Ice Cream Poetry

Tuesday, April 11, 5:30-6:30PM at Fairfield Library
Audience: K-5
Create your own ice cream poetry masterpiece as we celebrate National Poetry Month! Whether it's Licking Lemon Lasagna or Powerful Popcorn Pizza flavored, it'll be a treat! Materials and poetry books will be provided.
Cut/Paste/Erase: Exploring Found-Text Poetry

Saturday, April 15, 2-4PM at Libbie Mill Library
Audience: Adults
Shake up your creative practice by making art with words from the world around you! We'll experiment with several techniques in an open, supportive environment and talk about poets who've incorporated these forms in their work.
From the Page to the Mic: National Poetry Month

Saturday, April 29, 3-5PM at Tuckahoe Library
Audience: Adults & Teens
Designed to provide an authentic open mic experience for local writers wishing to read their poems in a public setting. Join library staff and local poet and writer Kristina Hamlett for the opportunity to hear the work of both novice and veteran poets read out loud. If you want to share your work, you are required to register in advance. Those wishing to join as audience members may drop in without reservations on the day and time of the event. This program is offered in celebration of National Poetry Month.
Be sure to also check out the poetry titles featured in some of our April Book Discussion groups.
I hope you are able to discover some wonderful new poetry and that you have lots of fun in the process. Let us know what you find! Who's your favorite poet?
Stay Informed
When you subscribe to the blog, we will send you an e-mail when there are new updates on the site so you wouldn't miss them.
Comments
2
The author of this post is an adult services staff member at HCPL! They wrote it in the first person because they wanted to recount their personal experiences discovering poetry in our collection.
The author of this post is an adult services staff member at HCPL! They wrote it in the first person because they wanted to recount their personal experiences discovering poetry in our collection.