Thank You for Attending All Henrico Reads with Jamie Ford!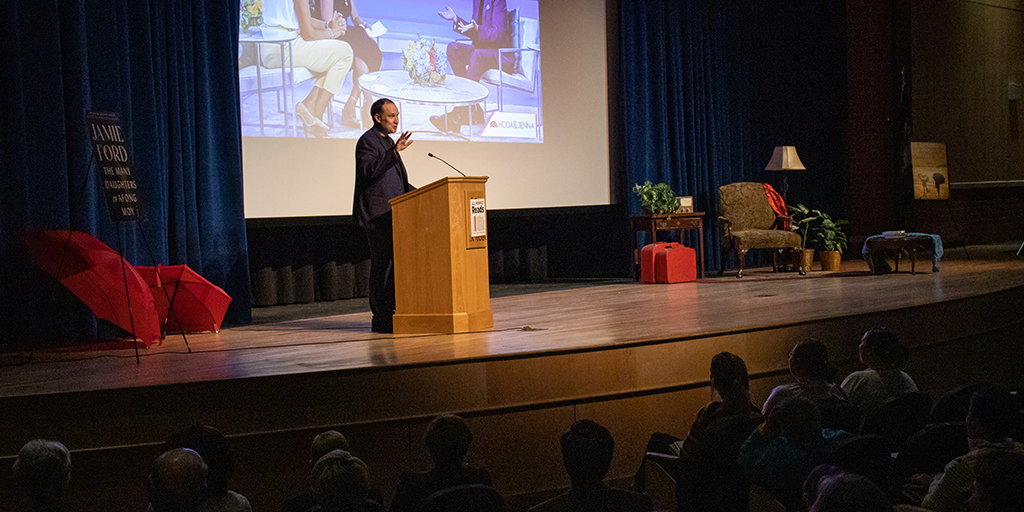 We'd like to thank Jamie Ford and the community for joining us for an evening of conversation and fun! We hope everyone enjoyed themselves as much as we did. What a wonderful way to kick-off our return to an in-person All Henrico Reads event!
In his discussion about his latest novel, The Many Daughters of Afong Moy, Jamie explored Chinese-American history, family, mental health, inheritance, and resilience. He shared his personal family history, and talked about how writing has prompted him to dive deeper into his own identity as a Chinese-American, inspiring characters that share new perspectives, foster empathy, and, hopefully, bridge divides to bring us closer together.
Thank you again to Jamie Ford and to everyone who attended last evening's event or one of our All Henrico Reads-related programs. We are thankful to our sponsors, The Friends of Henrico County Public Library, Henrico County Public Schools, and Henrico County, for their support, which makes All Henrico Reads possible. We are additionally thankful to the Asian American Society of Central Virginia for their partnership this year. We'd also like to thank the bookseller Fountain Books, and our library staff, for their work in making the event such a success.
You can continue the conversation at our All Henrico Reads Book Discussion at Sandston, or further your exploration of Chinese-American history and culture at one of our upcoming programs!
And if you're looking for your next read, browse our recent blog posts about Chinese-American Stories, Family Matters, Women's History Month, and Discovering Poetry to find more titles that deal with similar themes.
Finally, to learn more about next year's All Henrico Reads event, subscribe to our newsletter or stay tuned to our website and social media channels!
Stay Informed
When you subscribe to the blog, we will send you an e-mail when there are new updates on the site so you wouldn't miss them.
Comments
No comments made yet. Be the first to submit a comment